Donald Trump in Zubaz Shorts at Celebrity Softball Game in Buffalo

(Photo Credit: Buffalo News archives)
Back in 1992, Jim Kelly held a celebrity charity event called Carnival of Stars that brought professional athletes and celebrities to the Buffalo Bison's home field of Pilot Field (now Coca-Cola Field). The event was held to raise money for children's charities. The event featured football skills and a celebrity softball game, but perhaps the best images to come from that event are pictures of The Donald wearing… Zubaz shorts!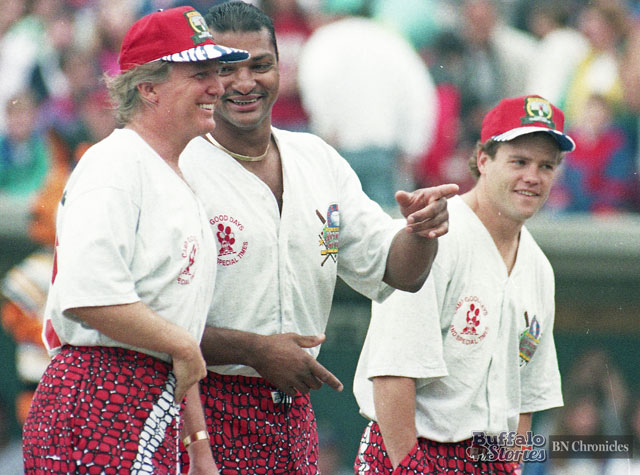 (Photo Credit: Buffalo News archives)
A young Donald Trump wearing quintessential 90's gear such as Zubaz shorts and a tucked in softball jersey can be seen chatting it up with Buffalo Bills' Linebacker Darryl Talley and Wide Receiver Steve Tasker. Perhaps they were talking about his future presidential bid some 20 years later? Or how funny and ridiculous (or awesome, depending on who you're talking to) they would look a decade or two later? I guess only the three men will know.
It will definitely be interesting to see if any media outlets (or Democratic presidential candidates) will run with these images. Amazing athletic wear? Damaging and embarrassing evidence? We will have to see!
Leave A Comment