The Murals of Allen Street

The Murals of Allen Street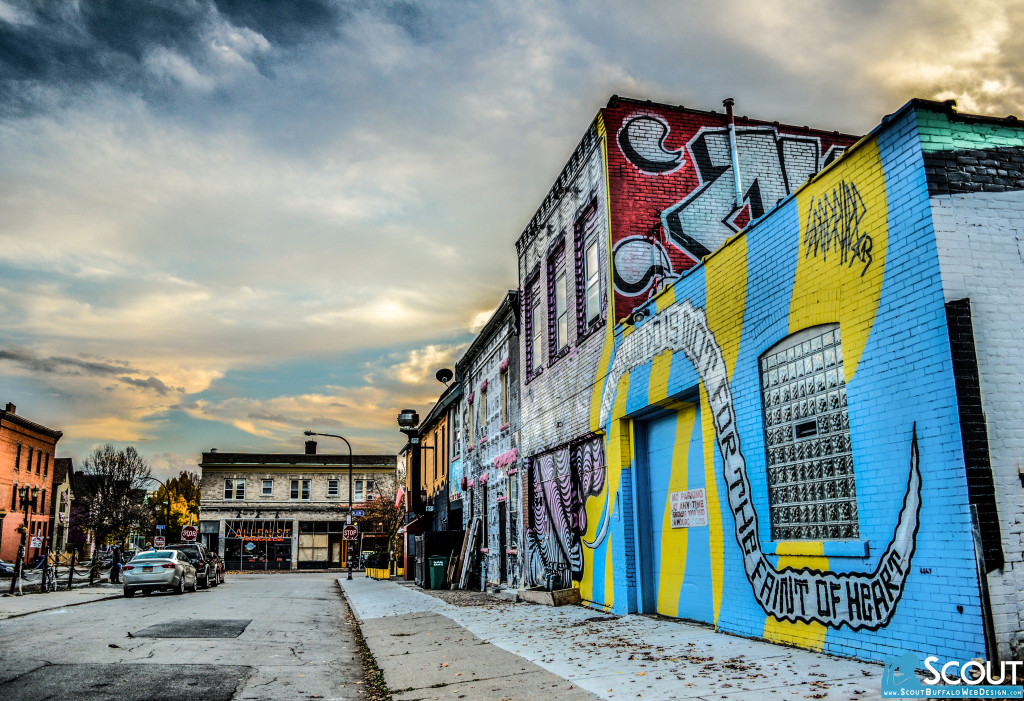 Allen Street, the heart of Allentown, Buffalo, NY, is conceivably the art and music capital of Buffalo. A vibrant and diverse community, it is home to many small art galleries, niche restaurants, live music, its own art festival, and even its own street art collective. This perfect cocoon of arts and culture grew colorful wings in the form of the Allentown murals.
Many internationally well-known musicians can trace their success to playing at Allentown venues like Nietzsche's, which also boasts hosting Buffalo's longest running open mic night. It is only fitting that many nationally well-known street artists (including many talented local ones) painted the expressions of this microcosm of Buffalo culture.
No blog about the Allen Street murals would be accurate without a mention of the Allen St. Street Art Collective (#ASSACollective), a group of street artists brought together by arts supporter, developer and curator Mark Goldman in 2013. Goldman wanted to "save" Allentown in a period just before the Buffalo Renaissance, where many empty storefronts reflected the economy and the exodus of young residents from Buffalo. Their handiwork can be found all over Allen St. Hardware Café, stretching well into College St., as well as the recognizable comic mural "Tribute to Spain Rodriguez" on the side of Holley Farm Market. While they weren't the first or only street artists to paint murals in Allentown, they painted a good portion of them, and put a spotlight on Allen Street once again, a result of and adding to the Buffalo Renaissance, and inspiring more art and murals to come.
While many glance and admire the murals daily, not many people know the stories, the artists, or even the concepts behind the amazing open art decorating Allen Street's walls. This article aims to tell the stories, albeit briefly, behind each mural, and give a full list of all the street art on Allen; apart from an online archive of Buffalo's collective street art, and a few blog references to some of the pieces, there is no online record with all the existing murals, their concepts, and their creators. This collection of Buffalo's culture deserves to be published for those who want to know more.
Streets of Art, an indie documentary on the ASSA Collective and the Allentown murals by Nathan Peracciny
Cantina Loco Graffiti Art – Ronnie Carlisle

This quite colorful and visually attractive mural at Cantina Loco is also, unfortunately, temporary. This wooden "band-aid" was painted by Ronnie Carlisle in August of 2015, after Cantina Loco was struck by a Jeep making a wide turn out of the Allen-Elmwood intersection on the afternoon of Monday, August 24th (and whose driver was rumored to be under the influence). Still, Cantina Loco made its limes into margaritas, and used this artwork to tell its customers that it wasn't going anywhere, and is still open for business!
"Tribute to Spain Rodriguez" – Holley Farm Market, 233 Allen – Ian de Beer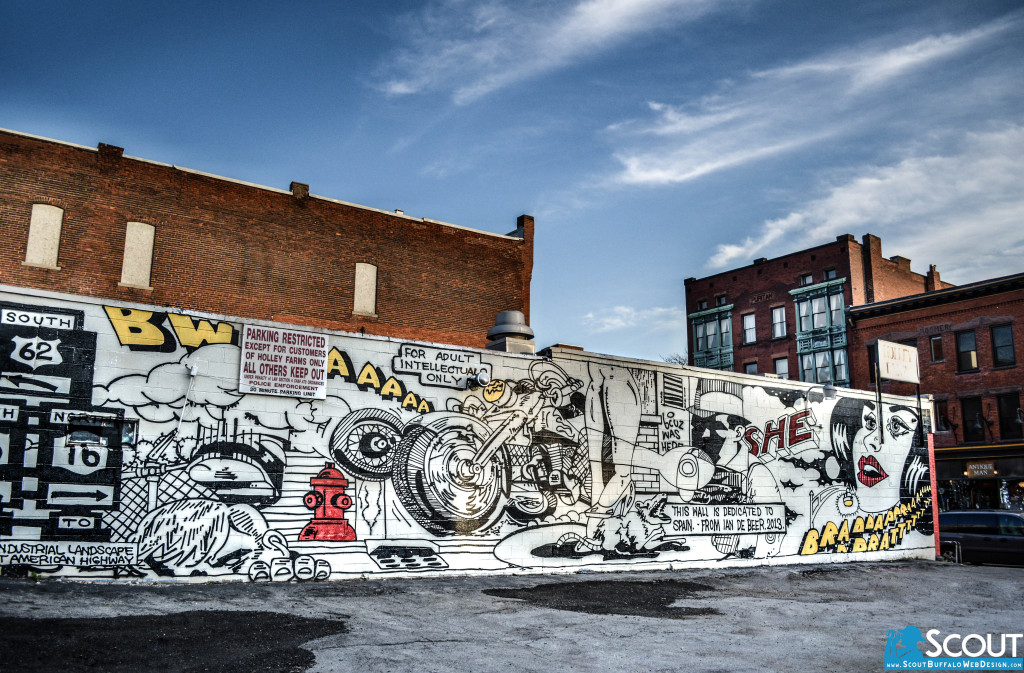 The first of many murals by the Allen St. Street Art Collective, this one was especially fascinating in that the artist never actually touched any of the materials used in the painting of this mural. Ian De Beer, who was convicted of vandalism crimes from graffiti art in New York City, was not allowed to possess or touch any graffiti materials as part of his probation. So, instead, he drew the piece at home, had it made into a projection image, and then projected the entire piece onto the side of Holley Farm Market at night! His assistants painted the projected image on to the wall while hundreds watched. De Beer described it as almost a "theatrical event."
The original concept is also fascinating in that this artwork was a tribute to "Spain" Rodriguez, a Buffalo biker gang member and comic book artist around the halfway point of the 20th century. "Spain" had made a semi-autobiographical comic about a true story – when he got in a biker fight at The Jamestown, which is now called Nietzsche's (which has plenty of artwork of its own in this article).
The Old Pink (Allen St. Bar & Grill) Mural, 223 Allen St – Unknown Artist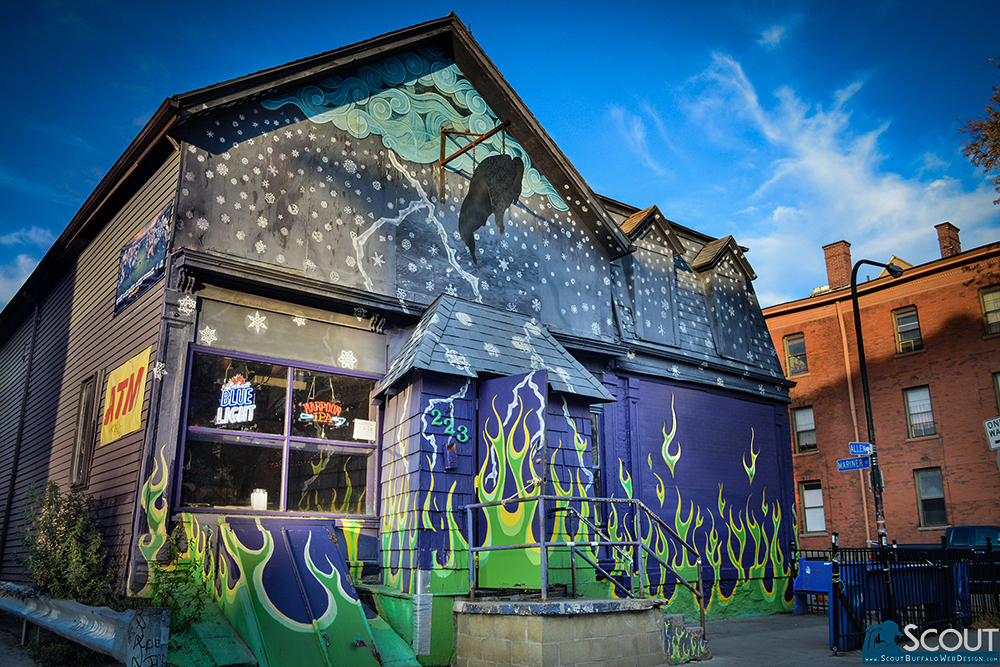 Probably the longest-standing exterior artwork on Allen Street, the Old Pink mural's painter was actually chosen by the Artvoice-sponsored "Paint the Pink" contest in June of 1992. While we don't know the name of the artist, and haven't been able to find his or her name anywhere, we find it interesting that the longest-standing exterior artwork on Allen was actually chosen by an Artvoice-sponsored contest!
"Secondary Occupants" – Hardware, 245 Allen – Julian Montague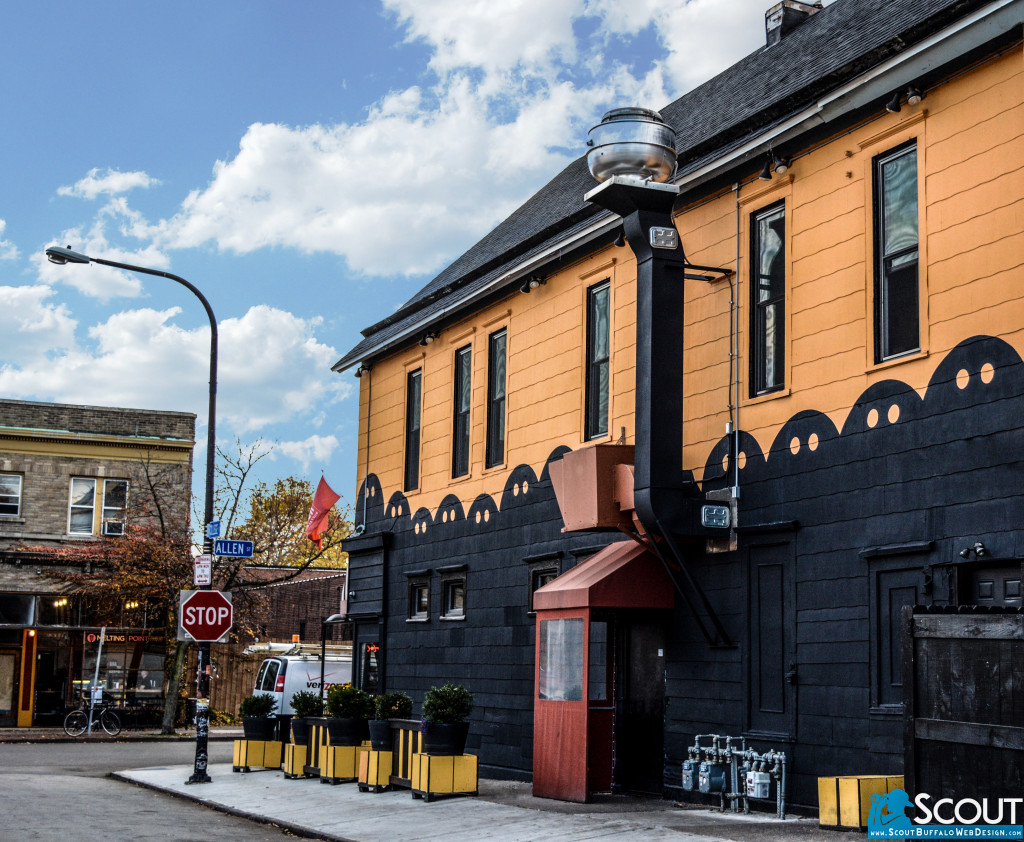 Julian Montague, part of the ASSA Collective, had a project where he made books into "fake books" that looked like they were from the 50's and 60's. One of these books he named "Secondary Occupants". He made this piece into a mural on Hardware of which he gave the same name.
"The graphic, in the context of the cover, is made to sort of represent the animals that live among us. I knew the other artists were much more oriented towards detail. I kinda wanted to do something that was set apart from that. This very simple illustration of these vague creatures that cut the building in half, that kind of changed the way you saw the side of the building, playing with sort of special elements. I thought that would kind of that would sort of break up everything else that was happening." – Montague, in "Streets of Art"
"The Revolution Begins Now" – Johnny Chow & "a poor man's Ruscha" – Ian de Beer – Hardware, 245 Allen

Johnny Chow is a musician and artist, using his music touring as a vehicle to allow himself to plaster his art on walls and streets across the world. His trademark Mickey Skull makes it into all of his artwork, and his Allen St. mural was no exception (it can also be found in Allentown Burger Venture, and at least one other place around Buffalo), having it as the backdrop for his Soviet-era Communist Propaganda themed poster. Outstretched red fists, instead of holding sieves or hammers, are seen holding street art tools and materials. "The Revolution Begins Now," another quote from Mark Goldman, is seen at the bottom of the mural in Russian typography.
Ian De Beer's "a poor man's Ruscha" was done after the ASSA Collective had painted the murals, probably to replace one of the older ones, which, unfortunately, did not stand up to Buffalo's weather. This piece was "inspired by the mural recently installed on the highline in NYC's meat packing district." (According to ASSA's Facebook page). De Beer reworked a "page from one of Ed Ruscha's books" into a work of its own that tied in the colors of Hardware and the surrounding murals while preserving the theme of the building and the integrity of the ASSA Collective murals.
"We're excited to present a mural designed by artist @ian_debeer," ASSA Collective's Instagram says. "Inspired by the mural recently installed on the highline in NYC's meat packing district, Ian, who has also employed acts of appropriation with previous works, chose a page from one of Ed Ruscha's books as a model for the design which was reworked to make something that we feel fits into the aesthetic of the building and the other walls in the area."
"Tribute to Tony Goldman" – Hardware, 245 Allen – Patrick Gallo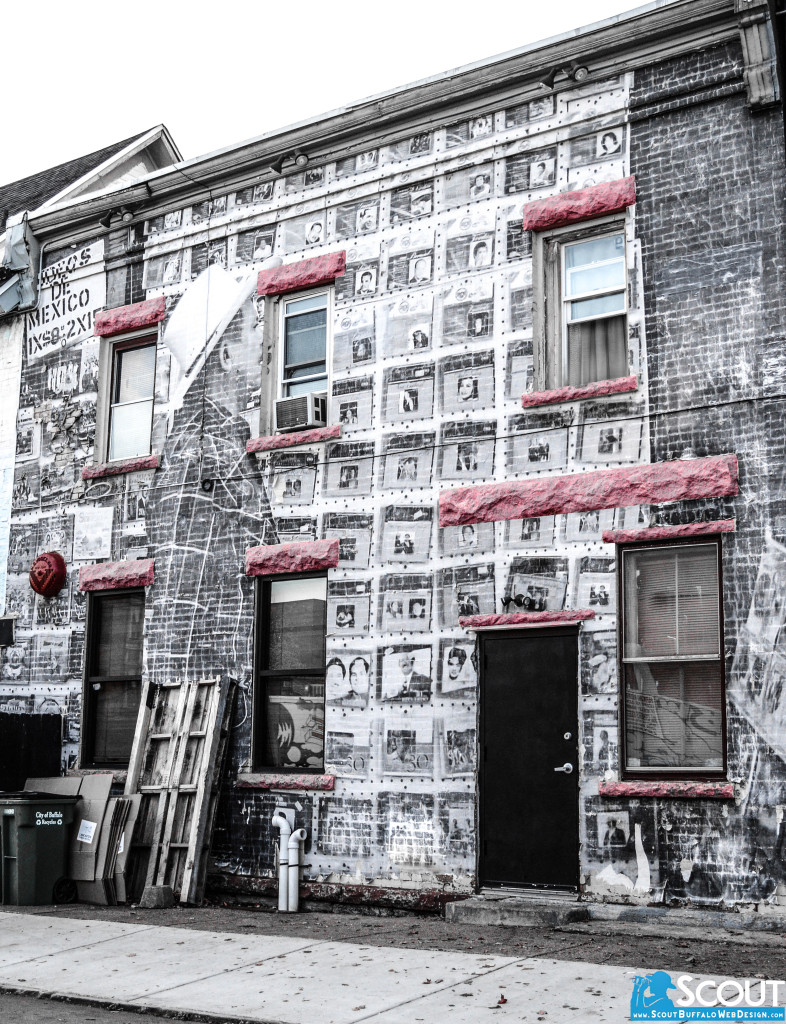 Patrick Gallo, another street artist and photographer from NYC (Brooklyn), chose a photo he shot in downtown LA to be the basis of this mural. The picture, that shows a Mexican-American man looking at Mexican pictures, he used in what he describes in Streets of Art as "the most absolute, most meaningful piece I've ever done. It was legal. I didn't have to look over my shoulder like I do if I'm in the shadows of the night pasting up posters in Brooklyn." That shared fear of being found by police while creating your artwork is a central theme and force of the ASSA Collective project.
"Iron Firemen" – Hardware, 245 Allen – Rust Belt Division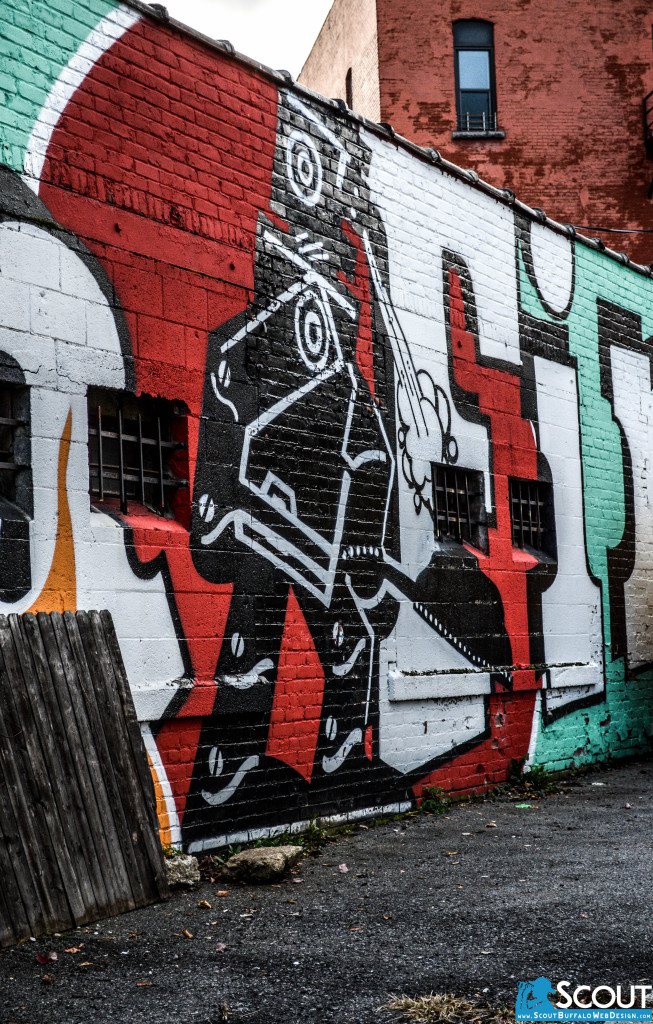 An artist who was, at the time, named "Rust Belt Division," who has probably since changed his name to avoid being found, is the creator of this mural. Described by the other ASSA Collective artists as "reclusive," he opted not to speak to the public about his work.
The concept of his work was based on a company called "The Iron Firemen," who install heaters and coolers and boilers in large industrial buildings and factories. He wanted to capture the working class pride of rust belt workers, and, in turn, Buffalo.
Nietzsche Mural – Nietzsche's, 248 Allen – Yames & Sparky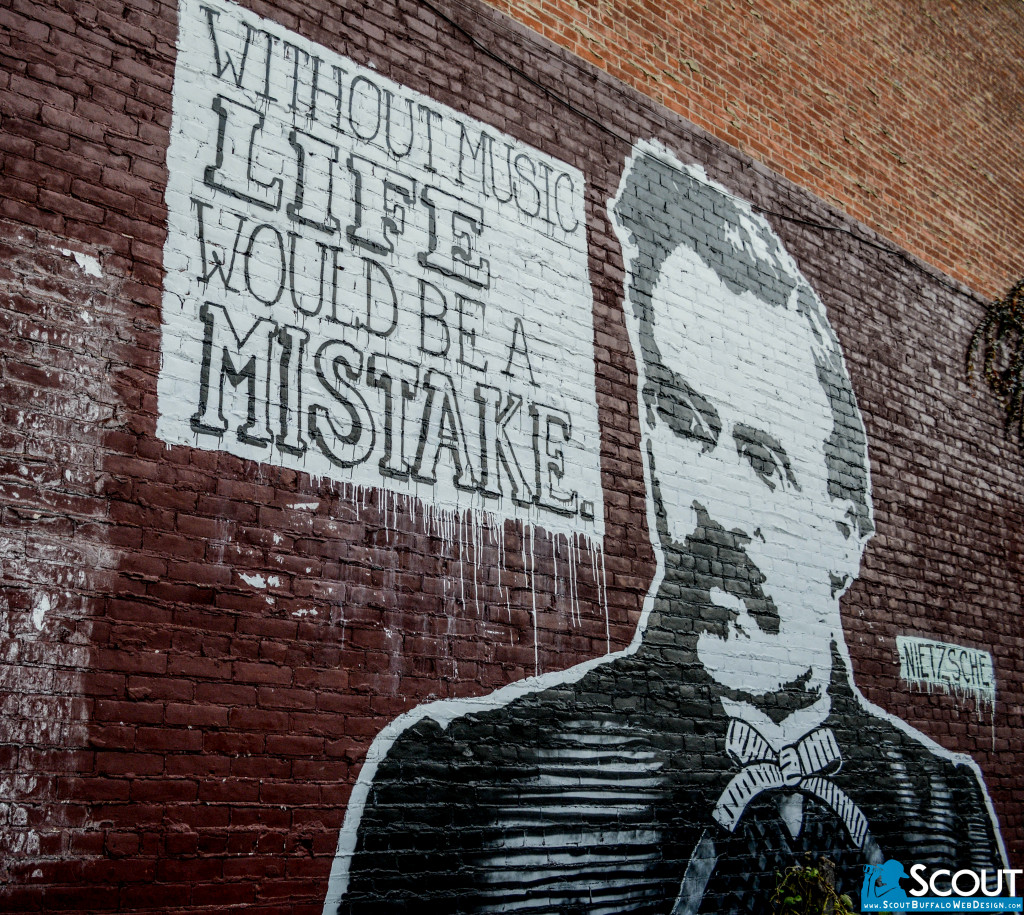 This piece, while done before the ASSA Collective went on their wall-spraying spree, still manages to fit the Allentown graffiti scenery. It was done by Yames and Sparky at the Allentown Infringement Festival. While not a lot is on the record about how and why this mural came to be, we are still reaching out to the artists to find out more, so we can give their work the recognition it deserves.
Leave A Comment